Showcasing our knowledge and interests towards military history is what keeps our hobby up and running. Without events (both local and aboard) all the information gathered about specific World War 2 events and topics would be kept in the dark. As a group we believe that education is the key to successful historical interpretation, ensuring that whoever requests our assistance as historical re-enactors, acquires the best information out there.
Check out some of our past event highlights, some of which include yearly events, group educational camps or visits and also travelling abroad to visit key historical World War 2 sites. As a group we are also constantly investing in our members to make sure that we get to have good standards of re-enacting and history knowledge…….so there's always more to come! Visit our Facebook page for the latest events.
Browse our events pages for more information:
Page 2 – Events abroad
Page 3 – Films and movie projects
Page 4 – Group get-together activities and visiting living history groups joint events.
Local events
Keeping our islands' World War 2 military history on the forefront is always our priority. Although the size of the island may limit the space provided to carry out living history and re-enactment events, Malta Command members have always collaborated well with organisers to ensure that the public enjoy themselves visiting us.
Including each and every event date and detail would be impossible to do so and a webpage would not be enough to describe all the activities carried out. We are busy doing living history all year round! Local events range from commemorations, anniversary celebrations of key Maltese World War 2 events, inaugurations of military heritage sites or related material, villages military themed events, multi-period events and many, many more!
Take a look below and make sure to visit us next time we are on the field, we enjoy hosting you in one of our military displays.
– Anniversaries or commemorative events –
Whether it is an individual or an episode from World War 2, these type of events always have a special place in our heart because of their significance and prestige in being invited to participate. These events may include the presence of VIP personnel such as head of state, presidents, relatives close to individual/s being commemorated or military veterans.
Aviation Museum open day; 185 squadron unit launch – April 2013
A Maltese WW2 veteran's birthday! – May 2018
Aviation Museum 25 years anniversary – November 2019
Henrietta Chevalier memorial garden – November 2021
Combined Operations Pilotage Parties unit launch – December 2021
HMS Urge inauguration and COPP presentation – April 2022
CWGA tours and commemoration – May 2022
---
– Highlight events –
These events are usually routinely held every year in Malta to remember key important dates in Maltese history. Usually during these type of events key political, military veterans or other distinguished guests are invited to mark their presence due to their symbolic link with the country. Malta Command's invite to such events indicate the fate that local event organisers have in us to ensure that we provide professional living history.
Unfortunately during the years 2019-2021 some of these events were disrupted due to the COVID19 pandemic; following many cancellations we hope that the years to follow will bring these events back to the public.
Key events include/included the annual celebrations of the:
'Convoy ta' Santa Marija' – Operation Pedestal; 15th August 1942
George Cross inauguration – 15th April 1942
Remembrance Sunday
AFM-Armed Force Of Malta open day
Military Mtarfa re-enactment weekend
PaqPaq għall-istrina – charity event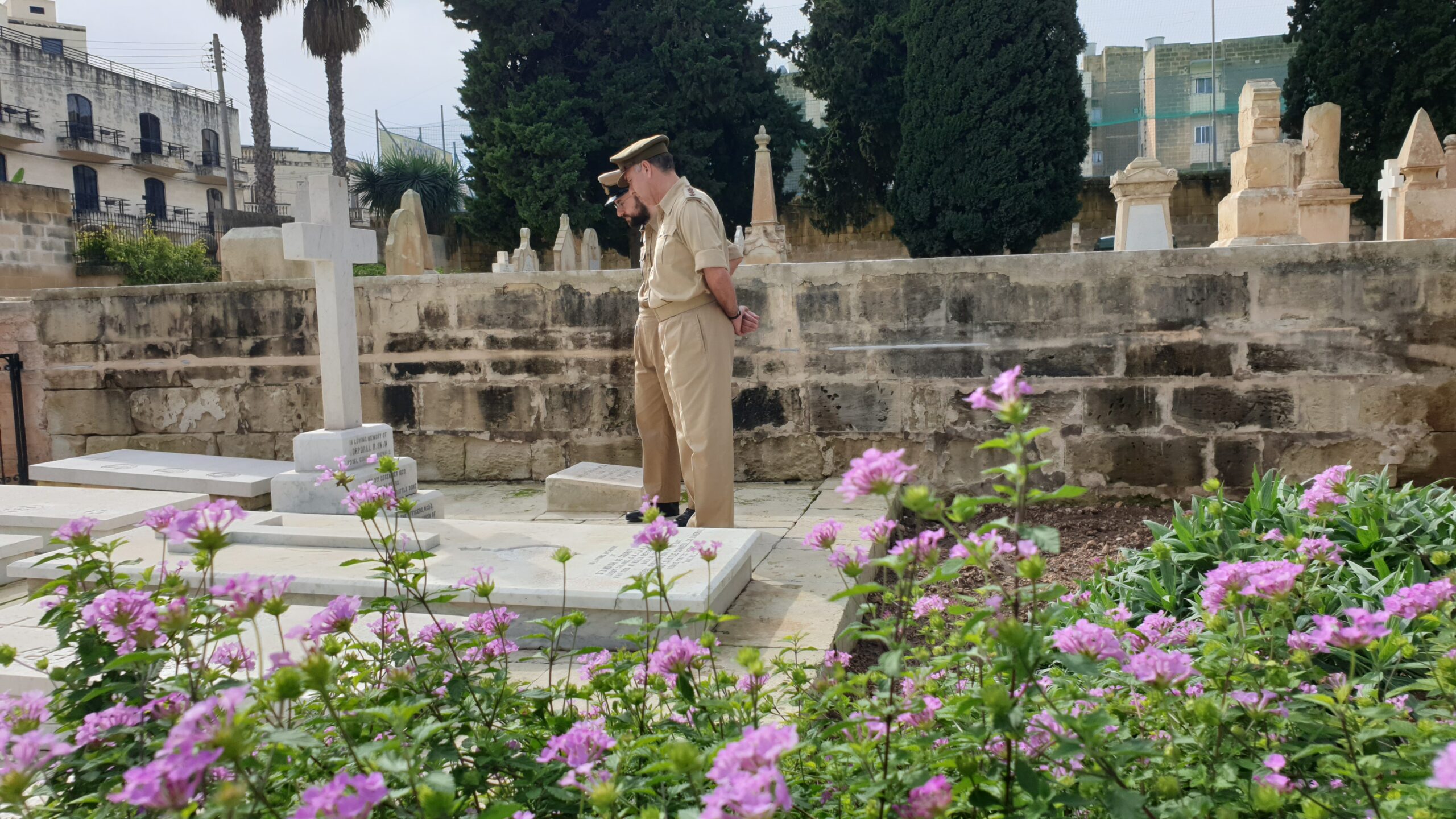 ---
– Multi-period events –
On certain occasions or island festivities, multi-period events are held (usually at a historical place on the island) eg: Verdala Palace grounds or Monte Kristo estates, calling all groups on the island to collectively showcase their historical era through Living History. Although multi-period events are not a regular thing, when an even of the sort takes place one can enjoy a massive variety of living history scenarios, uniforms, militaria and historical set-ups that are quite immersive to the timeline portrayed by each group. As much it will be exciting for the public to attend, so much it will be for our members to socialise with other living history groups in a historical niche'.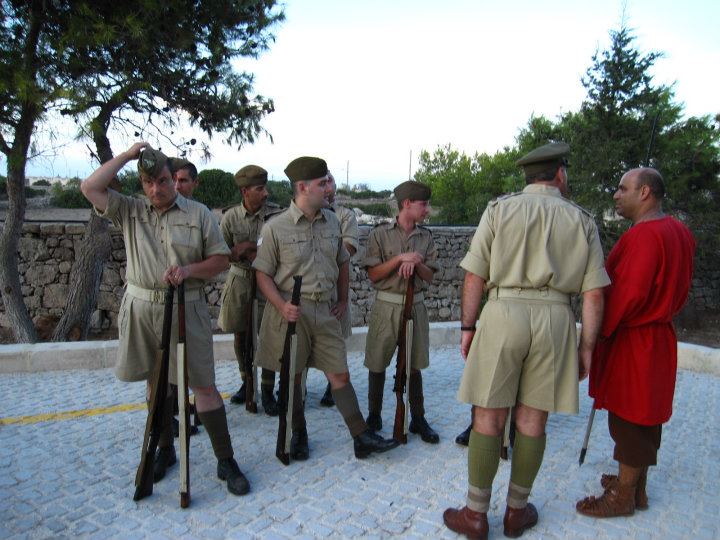 ---
– Regular events –
Most of our regular events consist of static displays in which we portray different scenarios from wartime Malta. Original militaria such as tools, uniforms, weapons, equipment and other bits and bobs are presented to the public. The visiting public will have the opportunity to interact with group members dressed up in period uniforms and discuss any topic related to World War 2. These events usually take place both during the winter and summer season, however summertime is preferred due to favorable weather conditions and due to the high influx of tourists on the island. Additionally, blank firing weapon displays may also be associated with our static displays, depending on the theme of the events and event organiser requests.
Birgu; St Angelo Victory day event
Delimara; Fort Delimara Open Day
Għargħur; semaphore tower
Għargħur; air raid shelter
Gzira; fort manoel inauguration
Gozo, Nadur; village event
Luqa at war
Marsaskala family park inauguration
Manikata pill box
Mellieħa; tunnara night event
Mosta at war
Mtarfa air raid shelter
Qormi; Casal Fornaro night
Qormi wine festival
Senglea maritime festival
Senglea at war
St. Venera; Korradino military prison
Ta' Qali; Aviation museum open weekend
Valletta Waterfront open weekend
Valletta; fortress builders center – interpretation display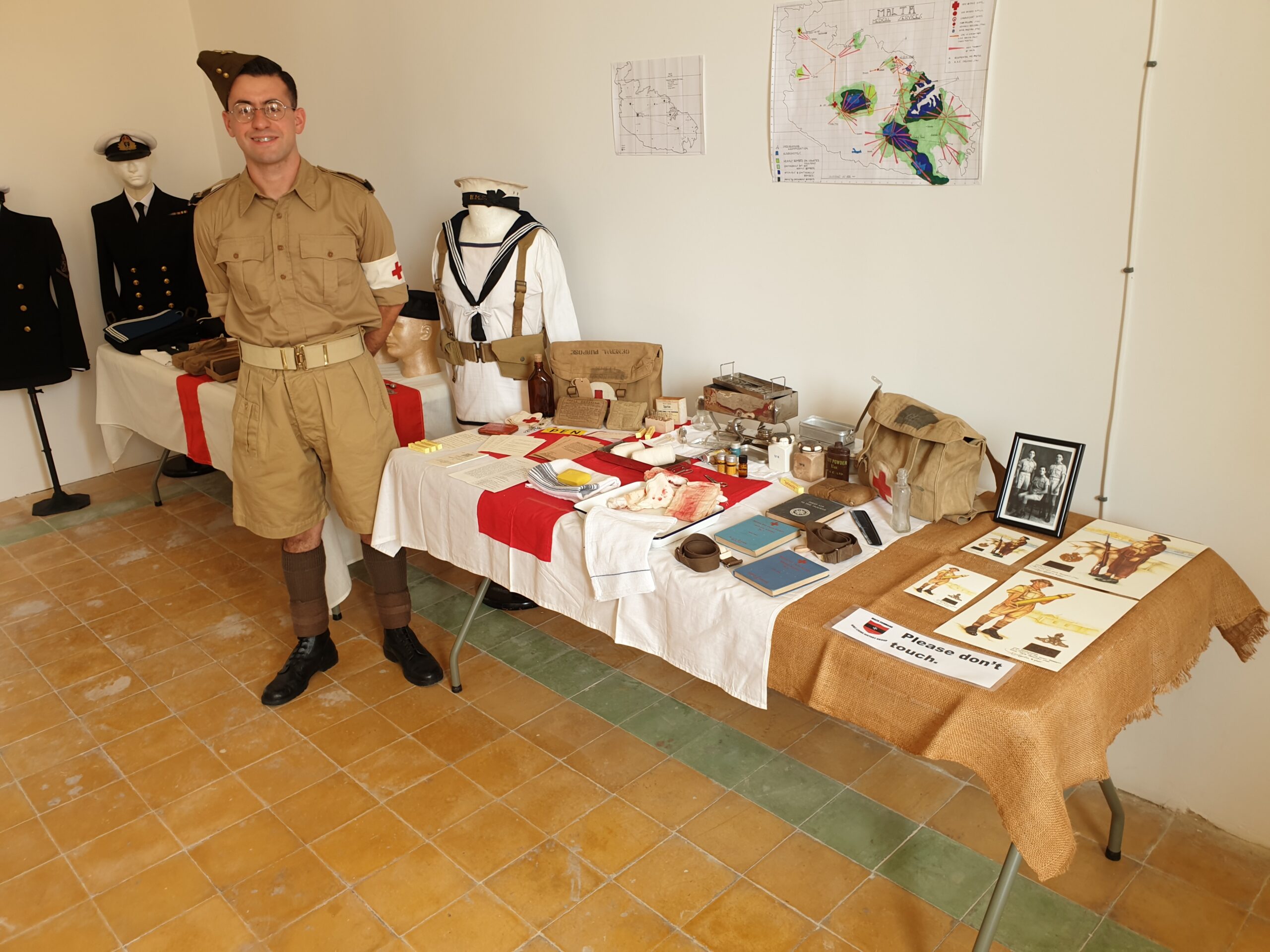 ---